Mentora Mullany: Frequently Asked Questions
We have officially launched our own Mentora e-Mentoring platform, so here are a few Frequently Asked Questions in the hopes that they'll answer any questions you may have.
If you still have any queries, please get in touch – Office@themullanyfund.org
What does Mentora mean?
Mentora is the Welsh word for mentoring.
Since we are a proud Welsh charity working with disadvantaged young people from across South Wales, we thought it only fitting to name our mentoring platform in our national language.
How can I access Mentora?
There are two options...
Option 1: Mentora can be accessed via our desktop version
Or
Oprion 2: Mentora Mullany App, which you can find by typing Mentora Mullany in either the Apple App Store or the Google Play store.
Please note that we have encountered some issues with the app not displaying properly on some android devices. If this is the case for you, please let us know which device you are using, and for the time being, work on the desktop version of Mentora Mullany
What mobile devices are compatible with Mentora?
The app is designed to work on Android and Apple phones (with the caveat see above). It is not designed to work on an iPad
How do I log into Mentora as a mentor? ​​​​​
You can log into Mentora using the desktop version using this link - https://mentora.themullanyfund.org/
OR
You can download the Mentora Mullany app from the Apple App Store or the Google Play Store.
When you registered to a be a Mullany Mentor, you provided your email address and created a password as part ofthe registration form. This email and password is how you currently login to your personal mentoring account to select which sessions you would like to engage with.
These are also the login details for Mentora Mullany.
Please note that as a mentor you do not need to click 'New User'. Simply input your email and password and you should be directed to the Mentora homescreen where you'll be able to find your asssigend student for the session along with other channels such as Mullany Notificationa and Admin Assistance.
What if I can't remember my password?
No worries, you can reset your password by clicking 'Forgotten My Password'.
You will recieve an email (check your spam if it is not in your inbox) that contains a link for you to reset your password. If you are unable to find this email and have already checked your spam inbox, please get in touch.
Some institutions will blocklist emails (which means they can't reach their intended recipient) particularly if they appear to be automated. In our experience this has included for example, some universities or larger corporate organisations. This means that our password reset process will not work with emails from these institutions. There is nothing we can do from this end, and we have been advised that, where possible, please could mentors use personal emails, if you think this may be a problem with the organisation where you work. We are happy to change your entry to our database if you feel that there might be a need.
Will I receive notifications from Mentora?
Yes!
You will recieve email notifications and notifications through the app.
We advise everyone using our platform to allow Mentora Mullany to send notifications of all new messages recieved. To enable this please grant permission on your desktop version or app to allow notifications when prompted.
If you are only using one device (either desktop/laptop OR phone) then you will get notifications on that device. If you're engaging with your student by using different devices, you'll get notifications to the device on which you were last logged in.
NB For the desktop version you may also need to allow your browser permission to receive notifications. Please note that notification are supported in Chrome, Firefox and Microsoft edge but not internet explorer
Can I attach documents to my messages?
Yes! However 5MB is the maximum size of any attachment.
Can I be logged into both the App and the desktop simultaneously?
No, you cannot be logged into the App and desktop version of Mentora at the same time. But you can log out of one device and onto another device, at any time, using your login details.
How do I get back to the home screen?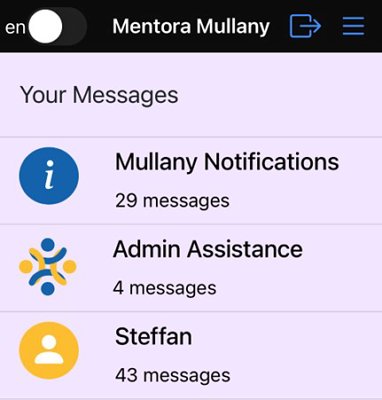 This is what your home screen will look like, and this is where you'll be able to access all your different messaging channels:
· Mullany Notifications
· Admin Assistance
· Your student channel
If you are assigned more than one student, you will have more than one student channel on your home screen.
To access a messaging channel simply click on it. To get back to the home screen, you can either swipe left on your screen (app users only) or you can press the home icon on the top right of your screen (App and desktop users)

Where can I get support from The Mullany Team on Mentora?
Mullany Notifications:
This is where you'll receive weekly messages from The Mullany Team outlining the theme of support each week. Mentors will receive messages every Monday and Friday whereas students will receive messages every Monday, Wednesday and Friday.
Admin Assistance:
The Admin Assistance channel is where you can contact a member of The Mullany Team with any queries/questions you may have during a session. We do our best to reply to all queries as soon as possible.
Can I copy and paste information from Admin Assistance messages?
At this time, if you are using the App, you will not be able to copy and paste information from messages. However, if you decide to login via a desktop, you will be able to copy and paste relevant information from messages.
Weekly themes of support
You can access the weekly themes of support for the current session here: