Annual Report 2021-2022
Contents of the Financial Statements for the Year Ended August 31 2022
Chairman's Report
Report of the Trustees
Independent Examiner's Report
Statement of Financial Activities
Balance Sheet
Notes to the Financial Statements
Detailed Statement of Financial Activities
Chairman's Report for the Year Ended 31 August 2022
I am delighted to introduce the charity's latest Annual Report, outlining our achievements in the past year. Of course, throughout the year COVID 19 has still been present and for much of the year, we have had to continue to adapt the way we have worked- for example, recruiting remotely or relying on teachers to recruit for us. However, as we have gradually moved away from some of the more challenging barriers we faced as a result of the pandemic, the Charity is able to report some exciting developments which have enabled us to break further barriers that some of our target group might be experiencing.
Young people have continued to be impacted by Covid this year, either through missing school through illness or having teachers absent. Many have felt the return to face-to-face schooling challenging, Our flagship project, Mullany e-Mentoring has continued to provide the support they have needed, and our vision remains to give every young person the opportunity of accessing a career in life sciences, regardless of background. Focusing our work on young people from more disadvantaged backgrounds, our flagship e-Mentoring project aims to support those who find it difficult to get the support they need because no-one in their family or network has followed the path that they would like to pursue. This year, as planned, we are excited to have successfully widened our remit to wider STEM subjects.
Seven years ago, we started working in 2 Local Authority areas in South Wales. By the end of August 2022, we were well established in five Local Authority areas and had expanded our work to two additional Local Authority areas working with new partners and new schools. Engagement by the students who got involved in our programme, has remained high this year, and the impact surveys that we administered at the end of each session have remained consistently positive, as was feedback from mentors and teachers.
Our unique digital system of providing students with a mentor continued to ensure the best matches for the students most in need, and during the second half of the year we were able to complete the development of our own bilingual e-mentoring space, accessible via an app, desktop or laptop. Mentora Mullany was launched for our summer session in 2022, and received excellent feedback. For the first time, our young people and mentors could choose to talk to each other in Welsh, if they felt more comfortable doing so.
With our mentors still unable to meet anyone face-to-face in the first half of the year, we continued to provide fantastic online work experience days. During this time, as with the previous year, our mentors also stepped into the breach and provided several excellent Vlogs about a Day in the Life of their professions. However, we were also delighted that in the summer of 2022 our work experience partners were also able to return to some face-to-face work experience opportunities, and our students were lucky enough to attend the Assistive Technologies Innovation Centre, Swansea University Nursing Department, and the Scarlets.
Finally, this year has seen us continue to develop our partnership work, examples include the secondment of an Events Officer, with the Social Mobility Foundation. We also continue to work with the STEM Ambassadors Scheme, both of which have enhanced the opportunities and information available to our e-Mentoring students.
We continue to be supported with a large number of committed and returning volunteer mentors who give inspirational advice to our students, and we continue to gain mentors with an engineering and construction specialism. As always, the continuing key to our success has been these volunteers, as well as the teachers who help facilitate our work in their schools and colleges. We are so grateful for their continuing support during themes difficult times
As it appears thing are gradually returning to a new post Covid normal, but in a world where people are experiencing ongoing challenges which affect their everyday survival, we continue to wish everybody well and hope that our work can contribute to a better future.
Richard Bowen, Chair of Trustees
Report of the Trustees for the Year Ended 31 August 2022
The trustees present their report with the financial statements of the charity for the year ended 31 August 2022. The trustees have adopted the provisions of Accounting and Reporting by Charities: Statement of Recommended Practice applicable to charities preparing their accounts in accordance with the Financial Reporting Standard applicable in the UK and Republic of Ireland (FRS 102) (effective 1 January 2019).
The Charity was registered as a Charitable Incorporated organisation on the 16th March 2020.
Objectives and Activities
Objectives and Aims:
To advance the education of young people, in particular but not exclusively, in the life science sector and to undertake such charitable purposes or to make donations to such a charitable institution or institutions at such a time or times and in such a manner as the trustees may in their absolute discretion see fit.
Social Mobility: The Mullany Fund is a social mobility charity that achieves change through education. The Fund works to give every young person the opportunity of accessing a career in the life sciences, regardless of background.
Fundraising: The Mullany Fund raises money from events, individual donors, trusts and foundations.
Public Benefit: Trustees adhere to the guidance issued by the Charity Commission on public benefit
Overall impacts September 2021-August 2022
We ask the young people involved in each session to complete an exit questionnaire. Of those who responded to our exit questionnaires, they said they project had helped them in the following ways:
Inspiration: On average, 86% agreed that they had improved their confidence to achieve their future dreams
Knowledge: On average 83% agreed they had an improved understanding of the range of jobs involved in life sciences
On average, 85% agreed they had a better understanding of the steps needed to achieve their life science goal
Skills: On average:
- 80% said that they had better study skills
- 62.5% feel they got advice on exam preparation and revision techniques
- 70% said they had better communication skills
- 67% felt that they had a better idea of how to access work experience
Moving On: On average:
- 83% of those involved in the project felt they would apply to university
- 53% of those involved who were in the relevant year group felt that they had a better understanding of how to write CVs, personal statements. and application forms
Achievement and Performance
This year, it has been exciting to progress into the seventh year overall of our Mullany e-Mentoring project. Our project goal remains to address some of the barriers faced by young people experiencing disadvantage, who wish to enter life-science and healthcare occupations. We do this by running a free online mentoring service, that aims to connect 14-19-year-olds from disadvantaged backgrounds with a mentor who is studying or working in a life science or healthcare area. Through an interactive, online process, the mentor provides academically related and more generic support, to our target group. The project also runs two additional elements, Future Routes and Insight talks, with the former providing work experience opportunities and the latter providing online or face to face careers talks in schools.
During the year we have widened our subject base of support to include some aspects of STEM, specifically engineering and construction. In addition, we have widened the geographical areas where we have been operating. As well as working with state secondary schools servicing Swansea, Neath Port Talbot, Merthyr, Bridgend and Rhondda Cynon Taf (RCT), we have connected with some schools in Blaenau Gwent and Carmarthenshire and aim to build up our work in these areas in the future. We have also worked with local voluntary organisations, where possible, and when the constrictions of Covid 19 have allowed this.
During the global pandemic we have maintained our reach and continued to use robust monitoring systems to measure our impact. Our key approach is regular monitoring through exit questionnaires, to make sure that what we are doing reflects the needs of our participants. Here is what some of our project stakeholders have had to say about their involvement.
Mentor
'It helped me focus on what's important to me for my own future. Mentoring encourages me to reflect on my own dreams, values and abilities.'
It's been an overwhelmingly positive experience. My mentee, is determined and bright. I feel privileged to be of any help to this talented woman.'
You have done well to continue the support despite covid-19, the students have tried hard too.'
Teacher
"I don't know anything else that is on offer to schools in Wales that is similar to this programme….The fact that it is open to anyone, that kind of equity is very important".
Student
'My mentor is amazing she provides the necessary recommendations and helps guide me in the right direction.'
'I think my mentor has done a great job with helping me with information about future careers, areas of work, and overall support about the future. I am happy with the amount of support I have gained especially due to the Covid-19 situation.'
Future Routes and Insight Talks
Alongside the e-Mentoring process, we also provide work experience opportunities and career talks.
With regards to our work experience opportunities, due to Covid, we have still had to modify our work experience opportunities through the Future Routes Programme, due to our inability to meet face to face. Despite the pandemic, however, we have continued with our wonderful online workshops through most of the year and in the summer of 2022 were finally able to return to face to face with the Assistive Technologies Innovation Centre (ATIC) team based in Swansea, and the nursing, midwifery and medicine team at Swansea University. The Scarlets also provided a wonderful work experience opportunity in the summer of 2022. The following was the fantastic feedback from these workshops, and we are so grateful for the input of the staff involved with these:
Swansea University nursing, midwifery and medicine team
'(The workshop was) realistic and informative. Other workshops can be biased in what they say but this was a great realistic talk that has improved my confidence in applying to University.'
ATIC
'Seeing a team of people, all from different backgrounds work so well together. They each had their area of interest and specialty but they all got along and had a lovely working environment. 3d printing was awesome too!'
'It was a great opportunity to find out wider range of healthcare, furthermore different use of VR and 3D printing technology. I never had a chance to be familiar with those technologies before, however I enjoyed the aspects of them and led me to think more open minded.'
'Meeting the team and getting to know more about their individual backgrounds and how they got to where they are today. I found it fascinating that they all did different degrees in completely different subjects, but they all work in the same team and really complement each other. I'd love to be a part of a team that works this well in the future'.
Scarlets
In addition, we were fortunate to be able to provide one student with a fantastic opportunity with the Scarlets rugby team this summer. We think his words speak for themselves!
'I don't think there is a particular moment from the experience. There is multiple, I just thoroughly enjoyed experiencing what it takes to work in the industry. Having said this, a couple of moments stand out as I reflect on the experience - observing training sessions with the Performance Analyst interns, providing assistance to a few of the physios during rehabilitation sessions for of the injured players.'
Careers talks
With regards to our career talks, we love being able to provide as much insight as possible into careers that our students would like to pursue in the future, and this would be impossible without the help of our mentors. Pre COVID 19 our career talks were provided both face to face in schools and mentors also provided short films from mentors talking about their careers. These Vlogs can be accessed online by all those who take part in the e-Mentoring project. During Covid, our mentors have continued to provide us with several Vlogs around the themes of 'A Day in the Life' being added to our Insight 'Bank'. This year our mentors also contributed to a recruitment video for our students, and this has been well received.
Oxford University
Finally, 25 year 10 students from Ysgol Nantgwyn were lucky enough to be able to visit Jesus College, Oxford University. The visit received excellent feedback from all involved, and we have agreed to run more visit days in the future.
Mentor and student matches and a new IT development....
We continue to use our innovative IT system, which has the potential to match every child in Wales with a mentor. Using multiple factors to define the interest area of our target students, the automatic system will identify the best match for our students in terms of those who can assist them most effectively. Our system enables us to expand in line with the number of mentors we are able to recruit, and this has afforded us fantastic opportunities for development over the last year. This year we have managed to largely match student and mentor with their first area of interest and speciality, and this is of great benefit to both.
An exciting development this year, which has built on our matching system above, has been the development of our own e-Mentoring space, Mentora Mullany, which is linked to our registration system, and which also allows our students and mentors to chat in Welsh, if they wish to do so. Of course, safeguarding barriers are put in place for both our Welsh and English speakers. The space was completed for our summer 2022 session, piloted with mentors and students, and received positive feedback. We hope to be able to develop Mentora in the future to make it as easy and effective to use as possible.
Thanks to our mentors!...........
Mentors are recruited from across the UK and now form part of a Mentor Bank with over 400 mentors registered for each session. All of those who are going to be involved in an e-Mentoring session must have an up-to-date enhanced DBS check, to ensure safeguarding of the young people involved. We also take every measure to ensure that our mentors remain safe as well. All matched mentors are provided with in house training, including the important topic of safeguarding.
Many of our mentors continue to return from session to session, something we are very proud of, and which we feel reflects the personal touch that we try and maintain throughout our interactions.
All mentors have the option to return an exit questionnaire at the end of each session they have been involved with allowing them to feed back to us about their experience and provide constructive criticism. From these surveys, our mentors this year have said:
'It was positive to mentor students specifically interested in the profession I'm training for. I felt much more able to share practical, relevant advice.'
'I like the weekly themes because it navigates the conversation and I LOVE the Monday motivational quotes!'
'It just makes me happy that I can help someone - I never received that when I was younger, especially in science, so if I can just be there for them, then I know
It helped me focus on what's important to me for my own future. Mentoring encourages me to reflect on my own dreams, values and abilities.'
'I actually really enjoyed.., the weekly themes seem to be very helpful and give me some ideas what I can try to engage the student with and on the other hand the contact from the Mullany Fund does not seem overwhelmingly too frequent.'
This year we have added new individuals to this ever-expanding resource, and have focused on including a more diverse range of people able to offer support, ranging from nurses, to midwives, research scientists to sports scientists, as well as a range of engineers. To facilitate the process of expanding to wider STEM subjects, we have continued to work with the STEM Ambassadors scheme.
Our mentors come from all sorts of professions and the routes that they take to their current positions are very varied....
We know how important it is to show our potential students both the range of mentors who are available to support them, and also that not everybody who mentors them has followed an easy, clear, or conventional pathway to reach where they are today. To this end, we encourage mentors to include a profile of themselves and their professional path, when they register for the programme, and below we have included examples of the career pathways that some of them have taken.
'I am now Bid Manager for a group of companies that deliver infrastructure schemes across several disciplines, including civil engineering, rail, street lighting, steel structures and roadside communications.
I always struggled with career direction, not knowing what options were available through my route of study, leading to me testing the water in several fields, including as a secondary teacher. I look forward to the opportunity of offering others some guidance from my own experience.'
'I am a data analyst in the aerospace industry, and previously marine biologist. My work in biology focused on the role of seabed animals such as worms and snails in helping maintain the health of their ecosystem; my enjoyment of communicating science has grown out of needing to explain that its most interesting parts often aren't what you might expect!'
'I have been a physiotherapist for the past 19 years. I have worked in lots of different settings including hospitals, businesses, GP clinics and overseas. For the past 6 years I have been teaching Physiotherapy at a University in the UK, where I am an admissions tutor and a senior lecturer. I have a master's degree in acupuncture and teach this skill to post-graduate physiotherapists.'
'I am a Slovakian psychology student, that loves sports like boxing, biking, and frisbee. I study at (a Welsh) University and it has brought extra-challenges since I am an international student. This allows me to provide a different perspective than UK students.'
'I'm a third year psychology student. I've worked in various retail jobs throughout my life and after some personal experience with CAMHS, I checked my options into helping children become their best selves.'
'I'm a qualified physician associate with a background in Biological and Chemical Sciences. I have experience mentoring people aged 16-25+ particularly from disadvantaged or non-traditional backgrounds, and I'm friendly, enthusiastic and approachable!'
'I am from an underprivileged background and gained my BSc and PhD in chemistry. My specialty is Molecular Imaging (scanning, diagnostics) and after working at a University in research for a few years I now work in the private sector in the same research area - using radiochemistry, pre-clinical imaging and healthcare technologies to support drug development. I grew up with very limited support, dragged myself through the hard way, and know I would have benefited from something like this.'
Chatting at a time convenient for you......
Since the beginning of our project, we have been kindly supported in our mentoring project by an external organisation called Brightside, who provided a secure e-Mentoring platform for our students and mentors. However, we felt that it would be better for us if we were able to use a system that was more integrated with our student and mentor registration and which was fully bilingual. Hence Mentora Mullany was born, and it was first piloted for our summer 2022 session.
Accessible via a computer or app, we are thrilled with the new e-Mentoring space. Mentors and students can chat at a time convenient to themselves and the lives they lead. Both questions and responses can be considered and unrushed, and many participants say that this is a major benefit of the online nature of the support provided. All messages pass through a moderation system to ensure everybody remain safe.
All mentors and charity staff must hold a valid Disclosure and Barring Service enhanced check.
Award for Excellence
A further element of our work is the Award for Excellence. The Mullany Fund are delighted to be able to make an award every year to students at either the University of the West of England (The Mullany Award for Excellence in Physiotherapy) or Swansea University (The Mullany Award for Excellence in Medicine). In 2022 the recipient was Louie Howie
'I feel very honoured and proud that the UWE physiotherapy programme team awarded me the Mullany Prize for Excellence. The award was for our conversations about inclusivity within physiotherapy. I am interested in how physiotherapy can become more inclusive of gender diversity, including transgender. I'm also interested in the anti-racist work that a physiotherapy training programme needs to include, and my conversations with the programme team went hand in hand with my own learning about this following the murder of George Floyd in 2020 and the Black Lives Matter demonstrations. I'm a member of the CSP LGBTQIA+ Diversity Network, and attend meetings with members of the CSP BAME Diversity Network and the DisAbility Diversity Network, and I know that there is still a lot of work to be done in physiotherapy to weaken structural oppression. I'm grateful to the Mullany Fund for the opportunity to bring a little more attention to this work.'
Other organisations
The charity always aims to develop our work with other organisations, both in the public and private sectors, particularly where the organisations target groups are the same as our own or where we can help enhance each other's objectives. This year we worked with Sumayah Hussain, seconded to the Social Mobility Foundation until January 2022, as an Events Officer. Her key task was to organise live webinars around life science professions, provided by our volunteer mentors, as well as workshops around MMI interview techniques. She will also worked on support resources for those who attended. The whole process supported our Insight Series, and we are very grateful to the Social Mobility Foundation for agreeing to support Sumayah in this process.
'The guest speakers, especially the adult nurse, were excellent at providing me with an insight into the pros and cons of their career as well as the daily, lived-in experience of their jobs.'
Financial review
Financial position
During the year, the charity had a total income of £72,557. Expenditure in the year totalled £166,996, which therefore produced an overall net deficit of £94,439.
Total unrestricted reserves amounted to £168,604, of which £75,000 were designated for Legacy projects, leaving £93,604 as free reserves.
As at the 31st August 2022, total net assets were £187,271, of which £18,667 were restricted funds and £168,604 unrestricted funds.
Funding
We rely entirely on voluntary/grant contributions which can include legacy and wills.
Reserves policy
The trustees have set a reserve target of £125,000. This is an amount the trustees consider appropriate to ensure the continuation of the charity for at least 12 months if other funding sources ceased. Actual free reserves at the 31st August 2022 were £93,604. It is the aim of the charity to further increase free reserves over future years in order to meet the required target set.
Structure, Governance and Management
Governing document
The charity is controlled by its governing document, a deed of trust and constitutes an unincorporated charity.
Recruitment and appointment of new trustees
New Trustees must be interviewed by the current Board of Trustees, and if appointed are informed of their legal obligations under charity law, the decision-making process and the business plan and recent financial performance of the charity. The charity aims to recruit people who can offer a range of skills.
Reference and Administrative Details
Registered Charity number
1188554
Principal address
Room 409, Institute of Life Sciences 2, Swansea University, Swansea, SA2 8PP
Trustees
A Mullany, M Mullany, Dr E Williams, R Bowen, Dr J Roberts (appointed 1.9.21), N Russill, R Bowen
Independent Examiner
Richard Knoyle, ACA FCCA, Baker Knoyle Chartered Accountants, Orbit Business Centre, Merthyr Tydfil, CF48 1DL
Bankers
Lloyds Bank, 16 Market Place, Oldham, OL1 1JG
Charity day to day management
R Bowen - Trustee
Approved by order of the board of trustees on 3 March 2023 and signed on its behalf by: R Bowen - Trustee
Independent Examiner's Report
I report to the charity trustees on my examination of the accounts of The Mullany Fund (the Trust) for the year ended 31 August 2022.
Responsibilities and basis of report
As the charity trustees of the Trust you are responsible for the preparation of the accounts in accordance with the requirements of the Charities Act 2011 ('the Act').
I report in respect of my examination of the Trust's accounts carried out under Section 145 of the Act and in carrying out my examination I have followed all applicable Directions given by the Charity Commission under Section 145(5)(b) of the Act.
Independent examiner's statement
I have completed my examination. I confirm that no material matters have come to my attention in connection with the examination giving me cause to believe that in any material respect:
| | |
| --- | --- |
| 1. | accounting records were not kept in respect of the Trust as required by Section 130 of the Act; or |
| 2. | the accounts do not accord with those records; or |
| 3. | the accounts do not comply with the applicable requirements concerning the form and content of accounts set out in the Charities (Accounts and Reports) Regulations 2008 other than any requirement that the accounts give a true and fair view which is not a matter considered as part of an independent examination. |
I have no concerns and have come across no other matters in connection with the examination to which attention should be drawn in this report in order to enable a proper understanding of the accounts to be reached.
Richard Knoyle, ACA FCCA, Baker Knoyle Chartered Accountants, Orbit Business Centre, Merthyr Tydfil, CF48 1DL
3 March 2023
Statement of Financial Activities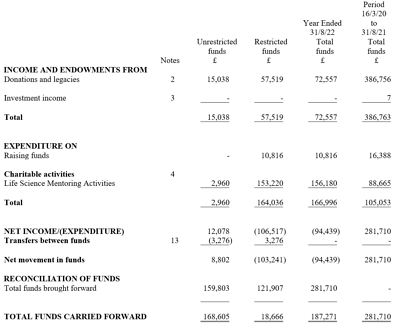 Balance Sheet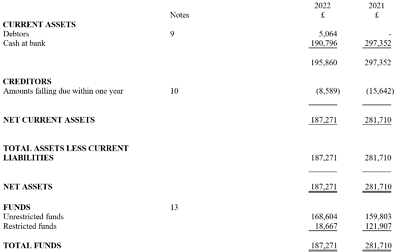 The financial statements were approved by the Board of Trustees and authorised for issue on 3 March 2023 and were signed on its behalf by: R Bowen - Trustee