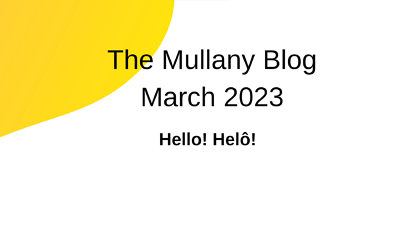 Mullany e-Mentoring
Throughout February and March, our Spring e-Mentoring session has been running. We are delighted with the engagement of students and the continued commitment of our dedicated mentors during this session. Thank you all!
Using the weekly themes that we send out each week, mentors and mentees have covered topics ranging from improving study skills and setting SMART targets to exploring careers in STEM and looking for work experience.
One of the most exciting outcomes from this session is seeing mentors using the platform to connect their mentees with work experience opportunities. These opportunities have ranged from meetings with medical professionals to future placements at an engineering firm. This is a testament to the huge benefits a mentor can bring to a student: not only can a mentor provide help with their own wealth of knowledge, they can also connect students to wider networks that they may not have access to before.
The Key Numbers:

Insight Talks
We also had an exciting opportunity for e-Mentoring students interested in studying medicine at university. Jon, a final year medical student and Mullany Mentor was kind enough to offer an Insight Talk into the application process for medicine.
He covered a range of subjects including personal statement writing, how to make the most of work experience and what to expect in a medicine interview. Students also had some valuable insights into the type of courses that are on offer and what to consider when choosing. These are some really helpful tips that aren't always available to students trying to navigate the process on their own, especially if no one in the family has been to university.
One of the students who attended said: "The fact that it came from a university student meant that the information was presented by someone that is more understanding of the situation of a student at this age because it wasn't so long ago that they were in the same position"
We're really glad to see the students found the talk insightful and very thankful to Jon, who took the time out of a very busy medical student life to talk with them!
Collaborations
This month, our Communications Officer, Tom met with a group of headteachers of schools in Rhondda Cynon Taff and presented our e-Mentoring programme. He outlined the programme as well as our Future Routes work experience and Insight Talk opportunities that we can offer to the students in their schools. We are really grateful to have had this opportunity to spread the word to new schools and we are looking forward to working with more students in the area.
We are also very happy to start working with more career advisors in schools throughout the 7 local areas in which we operate. Careers Wales (@CareersWales) have a career advisor linked with every school in Wales, so this is a fantastic opportunity to reach more young people with our e-Mentoring programme.
Securing work experience for young people, especially in healthcare settings, has remained a challenge post-lockdown. However, we were able to meet with Health Education and Improvement Wales (@HEIW_NHS) this month which is a positive step towards offering more young people valuable work experience in healthcare!
What's next?
In the next few weeks, we are looking forward to getting on the road again, visiting schools and presenting our e-Mentoring programme to students for the upcoming Summer session. This session is the perfect opportunity for students to make the most of a bit of extra free time to start thinking about future challenges and opportunities!