This is the mentors page for our e-Mentoring project. Here, we try to explain a bit more about what mentors do, and what our expectations of them are, if they sign up. If, after reading it, you would like to sign up, you can do so by clicking the 'Mentor' button at the top of the page.
Mentors who have been involved in the project before have included paramedics, physiotherapists, doctors, midwives, childcare workers, nurses, biomedical scientists, vets, dentists, and many more!
How does it work?
The project supports young people to build on their aspirations and gain knowledge and skills to help them move forward towards a career of their choice. Our focus is on life science careers, but we also help people to gain more generic skills like confidence, which will help them to start out on their career pathway. Support is all provided through online mentoring, and we particularly try to support young people who will find it more difficult to get the support they need, because no-one in their family or wider support network has followed the path that they would like to pursue.
Everything is done online, a bit like instant messaging, but a bit less 'instant'!
Any young person who signs up will be matched with an expert in the area that they're considering for a career. This expert is called a mentor.
Over a period of 8-10 weeks (we call this an e-Mentoring Session), the student is allowed to ask questions about anything, but typically includes:
studying, managing exams
which options to take
help to decide where they might want to work in the future
different ways of reaching their chosen career
what it is like to be at university or work in a certain profession
writing personal statements for university
What have the mentors who've been involved said?
'Thank you. I think it is a great project and hope that it helps give young people the support that they need to get into good careers. Well done to the team!'
'I have found it really rewarding to have conversations and see mentees start to implement/learn more about the areas we have discussed over the last few weeks'
'I am happy as I feel I made a difference in young peoples' lives, no matter how small :)'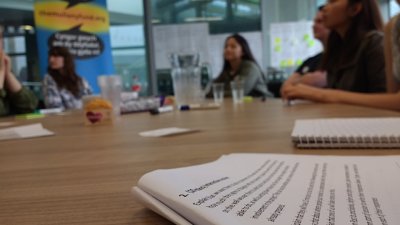 Things you should know
DBS check
In order to be entered into the process where you are matched with a student, you will need a DBS that is 3 years in date at the end of the session you have applied for. If you haven't got one, don't worry, the project will pay for this and we will give you instructions on how to apply.
Number of mentees
As a mentor, you may be assigned up to three students. Tell us if you would like fewer.
Regular contact
Please only sign up if you can commit to sending your student(s) at least one message per week. Having regular contact encourages the mentee to remain engaged, which is key to the programme!
If you know that you are going to be on holiday during the session dates, or if you know you are going to be somewhere where e-mail is intermittent, we would be grateful if you could wait to sign up in a future session.
A fast start is good
Sending a message in the first few days of the session is really important. Many students check the site as soon as the session starts, and if there is no message, they lose interest quickly!
Sometimes you won't be allocated a student
Please don't be disappointed if we are unable to find you a student to mentor. It depends on who signs up to the programme, what their interests are and how many mentors there are who have this interest. Please do not let this put you off as we need a wide ranging mentor bank!
Your student may not respond
Sometimes, your allocated student(s) will not engage well. We do try and encourage their engagement throughout the programme, but this sometimes happens, as a student may sign up and then decide that they are not interested after all. We hope that this will not put you off being a mentor - we need you!