What we have achieved…
Our e-Mentoring project provides young people with advice and support they need to help them with their studies and their future career plans. It aims to prioritise this support towards those who might not be able to receive it from elsewhere.
Over the course of the first phase of the three year Big Lottery funded project, over 400 students took part in our project. Here we have provided testominials from teachers and students involved, as well as statistics around the difference that the project has made to those involved.
Some of the things our students said:
'My mentor is amazing! Nothing I have asked has been too much and the information she has given me has been invaluable. I have the confidence now that I can achieve what I want to achieve. I honestly can't speak highly enough of her.'( Yr 12)
'I have learnt great things with this and I have found out about how to get the job I want.'( Yr 10)
'Excellent support network providing great opportunities. Always happy to help and answer any questions and very understanding.' (Yr 12)
'It has been very helpful and I will highly recommend it to my peers and younger students.!' ( Yr 12)
'My mentor has helped me with better studying and understanding topics more over the last few weeks.' (Yr 9)
'My mentor is a legend.' (Yr 9)
'(My Mentor was) able to provide good guidance and was great with replies.' (Yr 11)
'I find this project really good and positive, it is a thrilling experience to talk to someone with a scientific background, and get advice on life choices and experience.' (Yr 12)
'My mentor has helped me think about what steps I need to take to achieve the career I want.' ( Yr 11)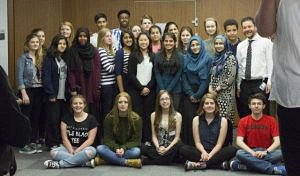 Thoughts from Teachers
Teacher, Cefn Hengoed School
'I am very passionate about the Mullany programme, I think that it is such a wonderful opportunity for our pupils to be able to change their lives and the lives of their children, to break the cycle of poverty that many of our pupils are in.'
Teacher, Bishop Vaughan School
'Pupils have felt empowered to take actions to help themselves – several pupils have gone on to find relevant healthcare work experience that will be of help to future university applications in healthcare, particularly Medicine, Pharmacy and Veterinary Sciences which require work experience. All have identified advice from e-Mentoring as being a specific factor encouraging them to take this course of action.'
Teacher, Ystalyfera School
'The project has motivated many pupils in their work. Many have now got something to aim for as opposed to drifting aimlessly and waiting to see what happens. They realise what grades are required and are now working harder towards them. Many pupils from disadvantaged backgrounds who were unaware of the opportunities out there are now more focused and have higher expectations of themselves,'
Lecturer, Gower College
'Mentors were able to make the careers real and give a flavour of issues such as workload, continuing professional development, dealing with difficult decisions, teamwork. These are all valuable insights which then help students to reflect on their work experience in their personal statements. They also help students to look beyond the newspaper headlines. Mentors ( were also) able to give some personal guidance as to what students should be doing to prepare themselves for competitive application. Students need to have access to support from health professionals. This is not something that can be offered by schools. This also needs to be addressed from about year 9 on in schools.'
Impact on students...
Ambition
91% felt that through the project they had been enabled to pursue a career of their choice
73% had either applied to or would apply in the future to university
Skills
88% feel they improved their study skills
80% had improved their communication skills
77% had improved their confidence
Knowledge
92% had an improved understanding of the application process into life sciences
80% feel they got advice on exam preparation and revision techniques
79% were advised on subject selection
53% got advice on personal statements and CV's
Our mentors said:
"Really enjoyed the experience and feel like it has helped my mentees."
''Great project that helps students collect information for their profession!.''
"Enjoyed passing on my experience and knowledge, I know I would have really benefitted from a scheme like this at their age, I hope to continue.''
"I think it has a feel good factor and benefits mentors and students alike.''